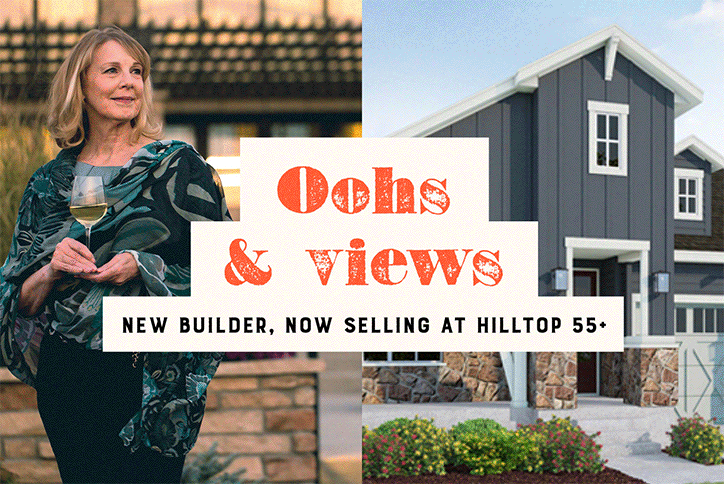 Welcome, American Legend Homes
So many ooh-and-aah-worthy options. So many gorgeous views. Meet Inspiration's newest builder as they make their metro Denver debut. Now selling at Hilltop 55+.
It's no news that there's a huge demand for one-story homes in metro Denver. That's why we're extra excited to share that American Legend Homes, a family-owned homebuilder from Texas, is bringing even greater selection to our 55+ neighborhood. As in 15 brand new single-story home plans, sized just right from 1,981 to 2,559 sq. ft. All thoughtfully designed for the way we're living today — and going forward.
Because who doesn't want an expansive great room for comfy family gatherings or (someday) parties with the neighbors? Not to mention private workspaces, including secondary pocket offices and dedicated tech areas. (Because everyone needs a personal work/hobby/Zoom space). Spa-like owner's suites. And seamless flow from indoor to outdoor spaces, inspiring more time in the Colorado sunshine and fresh air. Speaking of fresh air, every American Legend home comes with the iWaveO purifying system, which attacks air-borne viruses and allergens and is proven 99% effective against COVID-19.
When it comes to options, you might say that American Legend Homes specializes in the special. Making life at home fuller — and easier — with a home gym or yoga room. Wine room. Dog wash. Or a fully finished basement for guests or whatever your heart desires. (Translation: no construction zone for you — this project's all tied up with a bow before move-in.) And don't forget, these homes are on some of Inspiration's dreamiest sites, with many offering spectacular views of Pikes Peak and open space.
Two model homes are coming this spring. The C652 with 3 bedrooms, 2.5 baths and 2,346 sq. ft. Plus a wine room as an extra perk for you to explore. And the 2,584 sq. ft. model C555 offers 3 bedrooms, 3 baths, two dining areas and an optional dog wash for the sweeter smelling Milo in your life.
No need to wait until spring, though. Now's the perfect time to explore the plans online. Or better yet, schedule an appointment to meet with American Legend. Because as we all know, one-story homes are moving fast these days and presales have begun.