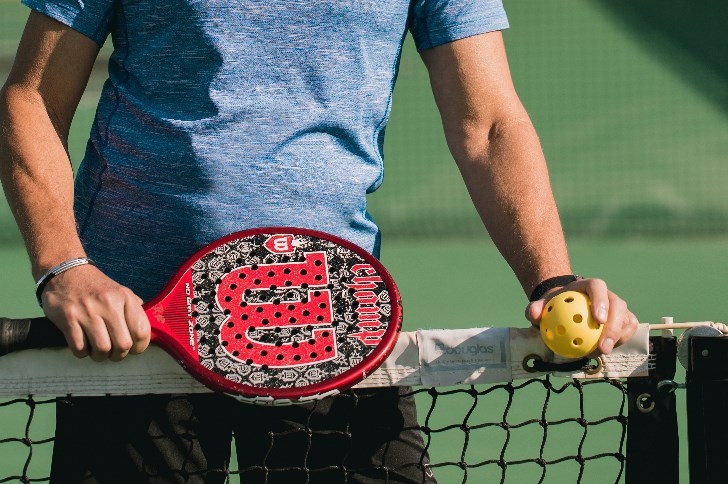 Pickleball. Fun to say. Fun to play.
There's a pickleball craze here at Hilltop 55+. In fact, that may be an understatement … after all, since its inception in 2017, our pickleball club has grown to over 230 members (and counting) and plays year-round! We talked to Hilltop Resident and "Pickleball President" Jim Brandt about the paddle game taking our community by storm.
Jim picked up the game right before he moved to Hilltop (fun fact: the pickleball courts were one of the big reasons he moved here) and took over as president of the pickleball club in 2020. What he has found is a large group of people who love the game as much as he does. Even during the height of COVID shutdowns, the pickleball club's members were still able to get together and play on our six permanent pickleball courts, thanks to the outdoor activity's inherently socially distanced format. As Jim said, "it helped pull residents out of the funk they were in from the pandemic." And the enthusiasm for the sport has only gotten stronger. Since then, the club has added 100 more members—and people even move here for the club and courts (including our pickleball instructor, who had so much fun teaching lessons and meeting residents that he bought a house in Hilltop!).
It's that sense of community, fun and flexibility that draw players into the club. Some play daily. Some weekly. Some just monthly. A group of women plays on Wednesdays. (You get the picture.) And every level is represented. There are even beginner sessions for new players, so that no one feels intimidated or uncomfortable. After all, while the game may be competitive, it is fun first and foremost—there are even "pickleball happy hours"!
Jim says that the pickleball club provides a combination of social and athletic opportunities for its members—allowing you to pick your level of play depending on your competitive nature. That means no matter what your skill set, it's a fantastic way to meet other active adults … and 230+ new friends.
If you're interested in learning more, schedule your tour of the Hilltop Club or call our Community Life Coordinator at 303-627-1063.
For Hilltop residents, there's a pickleball club section on the Hilltop Club Association website. You can see pictures, learn how to join, find out how to reserve a court, and more.