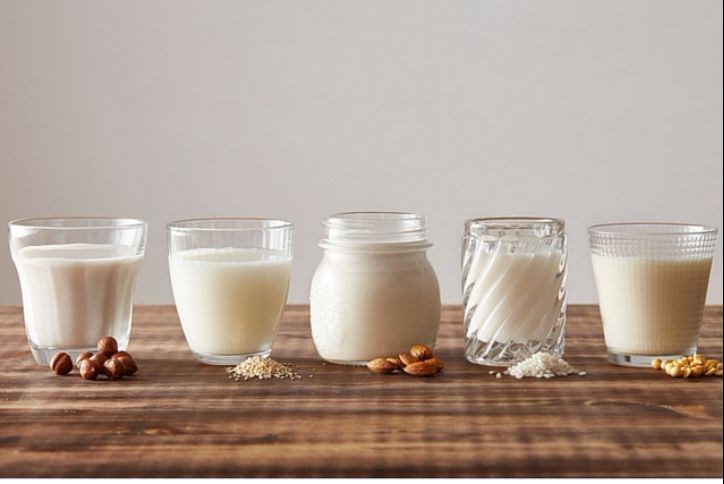 Wellness Trends for the Year Ahead
By well+GOOD
Wellness predictions are in! These are the top health and fitness trends we'll all be talking about in the year ahead.
Everyone is Eating Breakfast, Lunch, and Dinner out of a Bowl
It all started with smoothie bowls. You know, the ridiculously photogenic ones that populate your Instagram feed every morning? But now bowls are branching out to claim lunch and dinner, too, and they're making a savory appearance on healthy-leaning restaurant menus, going by the name of grain bowls, macro bowls, veggie bowls, poke (sushi-style) bowls, and more. There's even a cookbook called Bowl coming out by foodie-author Lukas Volger this year.
Seaweed is the New Kale
Suddenly, everyone is talking about the underwater plant, for its nutrient profile, skin-care benefits, and incredible potential for combatting climate change (as recently detailed in The New Yorker, which called it "a miracle food"). "Seaweeds are amongst the most nutrient-dense plants on the planet, and as they have access to all the nutrients in the sea, they are an extremely rich source of minerals," explains Scotland's Mara Seaweed CEO and co-founder Fiona Houston. Houston says an array of Michelin-starred chefs are now cooking with her products, and "manufacturers are using seaweed as a healthy option to replacing the salt added to processed foods," adds Jane McKenzie, PhD, a food and nutrition expert at Queen Margaret University.
Minerals Get the Rockstar Treatment (and Magnesium is the Darling)
Vitamins may get all the glory. But this year experts are going to be calling minerals the real health rockstars. The ailments of modern life that affect us all—stress, sleeplessness, and a dependence on afternoon double espressos (whoops!)—aren't just giving us something to whine about, they're depleting our mineral levels, particularly magnesium. Functional medicine docs say that 80 percent of us are deficient in magnesium. Why that's a problem? Magnesium is linked to improving your muscle and bone strength, and controls hundreds of chemical reactions in the body, helps regulate blood pressure, and keeps the immune system strong," explains Frank Lipman, MD.
Intensive Fitness Programs Become Super Hot
Fitness reboots aren't just for January resolutions. Intense fitness programs, which incorporate additional lifestyle elements such as nutrition and health coaching, are getting more popular as a way to ramp up and recommit to health and fitness, with the added gratification of achieving measureable results (like muscle gain, and lost inches).
Beauty Products You Drink
This year's big skin-care trend isn't about what you slather on, it's what you're sipping as part of your beauty regimen. Dozens of companies—from Beauty Chef to Hum Nutrition and Fountain—are making beauty-boosting beverages loaded with the nutrients that help promote a healthy glow from within, or fight acne, or prevent the signs of aging, and more. Many of these elixirs contain superfood ingredients and antioxidants linked to skin health, such as turmeric, probiotics, zinc, and adaptogens like Rhodiola Rosea, and they come in powder form that you just stir into a glass of water.
Meditation Will Be Part of Your Social Life
"We're sharing the benefits of meditation in a way that's social and fun," Jesse Israel said recently to a crowd of 800 people who had come after work with friends, significant others, or co-workers to meditate in an auditorium in New York City. Israel's The Big Quiet, which has organized large meditation gatherings in Central Park and is now aiming to spread to multiple cities, is just one example of how meditating is becoming the new happy hour.
Meet Adaptogens, the New Stress-fighting Superherbs
You've heard of superfoods. Well, meet the superherbs. Some plants have superpowers that can help the body adapt to stress and handle it in a healthy way (versus making us run down and feel exhausted). These wonders are called adaptogens, and they have the attention of physicians like Frank Lipman, MD, and juice mavens (Lianna Sugarman to Amanda Chantal Bacon) to skin-care brands (Juara). They're excited about the potential of these stress-fighting superherbs to improve all kind of issues related to health and beauty.
Nut Milks Go Bespoke and Small Batch
You could say nut milks are now getting the attention that cold-pressed juices were getting seven years ago. More people are drinking nut and seed milks than ever before, thanks to all the exposure around dairy intolerance and the bad press surrounding soy. People now want milks that are all-natural and emulsifier-free (2015 was not a kind year to carrageenan). Customers are looking at ingredients, says Elly Truesdell, the local brand buyer for Whole Foods' Northeast region, and they're putting down the milk cartons. "As better milk alternatives have been made—that are refrigerated and not shelf-stable, and are free of certain ingredients—people are starting to choose those."
Oil will Become Your Cleanser of Choice
This hot new beauty practice has a lot in common with your grandmother's evening cold cream ritual to remove dirt and makeup—only this modern technique uses natural plant oils. Dozens of beauty brands, from Tata Harper and Elizabeth Dehn for One Love Organics to Burt's Bees, are launching buzzy cleansing oils. The super gentle concept of oil cleansing is based on the chemistry of "like dissolving like"—e.g., an oil cleanser effectively tackles the dirt and oil on your face—versus water-based cleansers that need surfactants to provide suds to get your skin clean.
Mainstream Diet Brands Go Anti-Diet
Mainstream diet brands may not seem to have much relevance for the wellness-focused modern woman, but they're going to try really hard to change that in 2016. This fall, Lean Cuisine introduced a campaign called #WeighThis that asked women to weigh their accomplishments instead of their bodies, and Weight Watchers introduced "Beyond The Scale," a major revamp of its program that de-emphasizes weight loss to include other healthy lifestyle components like fitness for the sake of feeling good, and self-care components for "inner strength."
To view the full article, click here.