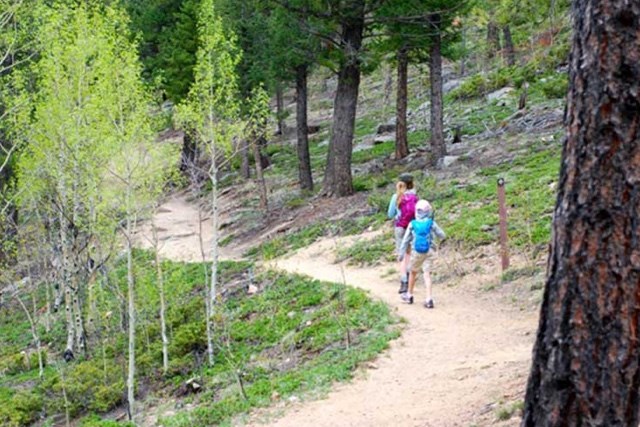 3 Easy Spring Family Hikes Near Denver
With snow still covering the mountains and parts of the foothills, it's the perfect time to get out and prepare your legs for the season on a trail that's not too high. And if you have children and dogs in tow, there are a number of spots that offer family-friendly trails for walking your dogs, taking your tot along in a backpack, or enjoying a quiet sunset picnic.
All of the hikes below are within an hour's drive from Inspiration:  
Hidden Mesa Open Space
Between Castle Rock and Franktown off Highway 86, this sprawling open space features grasslands, forests, meadows and ponds, as well as a riparian area on Cherry Creek along the Cherry Creek Trail. The undisturbed native habitat is home to coyotes, pronghorn antelope, elk, prairie dogs, and many species of birds.
The four-plus miles of trail are ideal for hiking, horseback riding and bicycling, and rarely as crowded as higher spots in the foothills or alpine areas. Starting at the trailhead off Parker Road, you'll walk by rock outcroppings with beautiful views and see wildlife as you go. You might see some geocaches along the trail, so if your children enjoy collecting rocks, tell them to keep their eyes peeled.
Blue Grouse Trail at Golden Gate Canyon State Park
Golden Gate Canyon State Park is a bit farther from home, but you can still get there in an hour. The park is a treasure trove of forest, ponds, aspen groves and natural habitat, with trails for every level of hiker. Blue Grouse Trail is 1.4 miles round trip, with mild elevation gain, making it a good choice for out-of-town visitors coming from sea level or for parents carrying kids in backpacks. There are scenic views along the way, and you're likely to see wildlife including deer and multiple species of birds. You might also see some wildflowers. Dogs must be on a leash.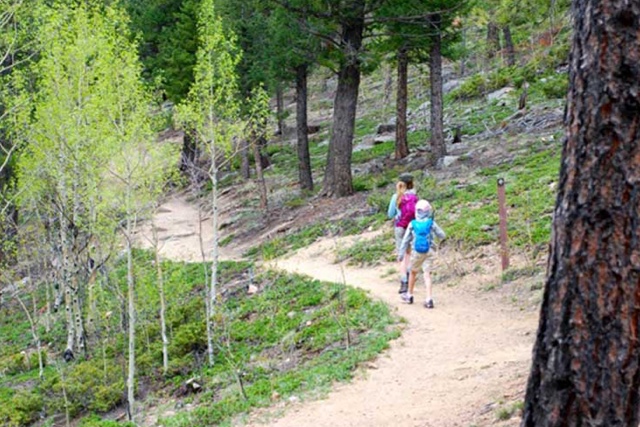 Davis Ponds Loop at Staunton State Park
Just west of Conifer, about a 45-minute drive from Inspiration, Staunton State Park offers a variety of places to explore. It's Colorado's newest state park. Because it's at a higher elevation than say, Hidden Mesa, you may encounter snow, but the Davis Ponds Loop trail is more open to sunshine than the surrounding areas and is a good option for spring.
The two-mile Davis Ponds loop takes you to ponds stocked with rainbow and cutthroat trout, so if your family likes to fish, bring some rods along. If you take dogs, make sure to have them on a leash. And keep this park in mind for later in the season, since the more than 3,000 acres of terrain include trails that pass by dramatic rock outcroppings and even a waterfall.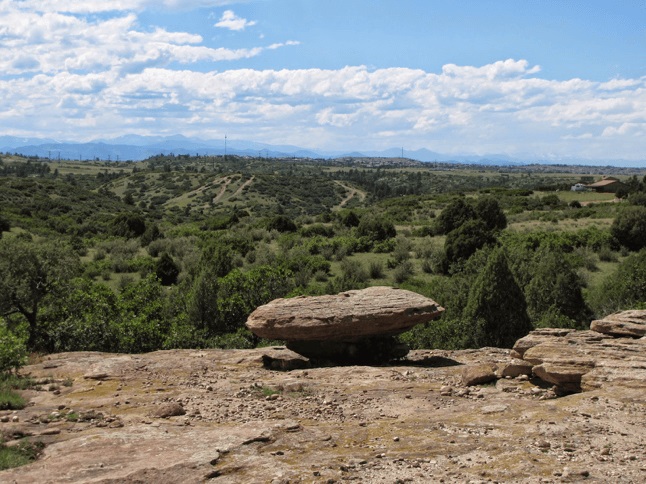 No matter where you go, enjoy the weekend!