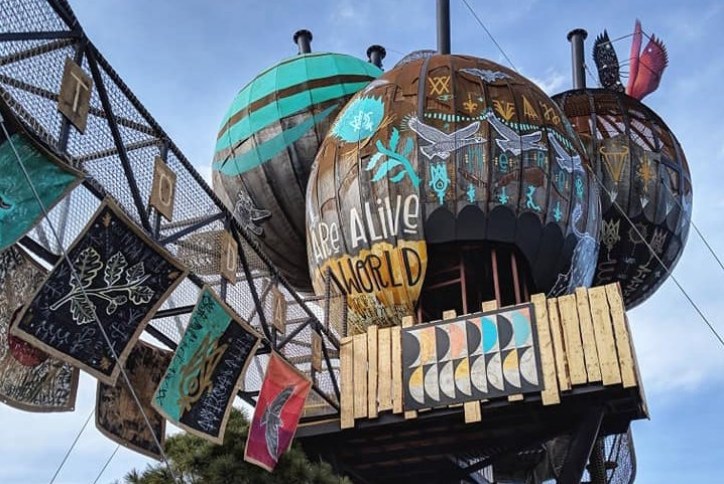 10 Fun Things To Do With Kids in Denver
Denver is a world-renowned playground for adults with a wide range of interests, from the outdoors lover and avid hiker to those who can't get enough of the thriving arts and culture scene. And Denver is a wonderland for kids, too! Here are just a few of the many treasures to be found around the city for the younger ones in your family.
The Urban Farm
A truly unique Denver institution, The Urban Farm is an educational campus that provides enrichment and development to young people through equine education, animal husbandry, and horticulture programs, as well as serving as a unique venue for events. The Urban Farm offers an extensive array of classes, camps, events, and enrichment opportunities for locals and visitors alike, while fulfilling a vital and meaningful mission for the Denver Metropolitan area.
Spend a Day in the RiNo Arts District
The River North Arts District (RiNo) is a corridor of wonders that attracts locals and travellers alike for world class food, galleries, concert venues, and special events. During the day, pedestrians may stop in and watch artists working, wander through a mixed media wonderland, and try hip eateries of all styles. At night, specialty food trucks and brew pubs cater to a vibrant crowd ranging from art enthusiasts to finger painting aficionados.
Dinosaur Ridge
Just outside of Denver, Dinosaur Ridge is ranked as the top dinosaur track site in the United States. The site features trails to view the tracks, an extensive visitor center with exhibits and a kid's dig center, a Discovery Center with educational experiences, and a gift shop with fun and educational learning tools and gifts. The park also offers camps, classes, tours, a preschool program, birthday parties, special events, and adult learning experiences.
Confluence Park
Home of the South Platte River's premier kayak chutes, Denver's Confluence Park is one of the city's most frequented outdoor hotspots for all ages. The kids will love watching the adventure seekers brave the rushing waters, and when the kayakers aren't out, there are still incredible views of downtown, lots of places to wade in the shallows, and an extensive walking and biking trail.
The PACE Center
A multipurpose arts hub, The PACE Center in Parker is a stunning facility that houses exhibits, performances, and educational programs for children and adults in a range of visual and performance art areas. Theater, dance, and culinary experiences are just a few of the high-quality art and cultural offerings of this remarkable community center.
Nature Hikes at Castlewood Canyon
Just a short trip south of Denver, Castlewood Canyon State Park trail system offers a variety of easy to moderate hikes for all ages and abilities, all year round. Dogs on leashes are allowed in most areas of the park, and hikes range from thirty minutes to two and a half hours. There are several geological formations of interest, as well as a waterfall, ruins, and diverse wildlife.
The Children's Museum of Denver
The Children's Museum of Denver promotes fun, dynamic learning and exploration through hands-on activities and exhibits sure to engage children and adults alike. Exhibits are designed around four main themes: Explore, Imagine, Investigate, and Create; and each of these areas has multiple exhibits so that your family can discover new and enticing worlds every time you visit. There's multiple activities for kids of every kind of interest at the Children's Museum of Denver, from the active go-getters to the bookworms.
The Downtown Aquarium
In the heart of Denver, The Downtown Aquarium is an entertainment and dining hub that offers more than a million gallons of underwater exhibits; with over 500 species of animals, a stingray reef touch tank, special events, a 4-D theater, shopping, an upscale bar, a ballroom, and party and event space as well as regular visiting and educational opportunities. Mermaid shows, educational programs, and scouting program opportunities are also available, as well as animal meet and greet experiences and special events.
The Denver Zoo and Cheyenne Mountain Zoo
The Colorado Front Range boasts not one, but two spectacular zoos. The Denver Zoo is home to more than 4,000 animals and champions international research, education, and conservation efforts. They offer a wide range of educational programs for all ages, including daily talks, animal feedings, and "up close" encounters, all available on a generous schedule.
Just an hour south of Denver in Colorado Springs is The Cheyenne Mountain Zoo, which has been named the 6th Best Zoo in North America by USAToday and offers a spectacular experience in a gorgeous, mountain-side setting. The Cheyenne Mountain Zoo is world-renowned for its Giraffe exhibit in particular, which is the largest herd at any zoo and is home to one of the most successful Giraffe breeding programs in the world.
Water World and Bay Aquatic Park
Denver is home to Water World, an amazing waterpark and play park that has been a vital part of the community for forty years. Water World was a USAToday's 10 Best Reader's Choice award winner, and offers families of all sizes and age ranges opportunities for adventure to fill summer after summer. Memberships, day passes, and a wide variety of special event offerings are always available. Shopping, dining, and non-aquatic activities round out this extensive sunshine experience.
Bay Aquatic Park is a lovely community waterpark designed for families and children ages 1-13. Many of the features and activities are designed to meet the needs of little ones who are just getting comfortable in the water, and there's plenty of space for a relaxing picnic and other activities.
Elitch Gardens
For those seeking adventure and entertainment, Elitch Gardens is a one-stop, must-do in Denver. The site is a combination theme park and water park, with a huge selection of rides and activities that will appeal to the most daring members of your family as well as those who prefer to keep their feet on the ground. Shows, waterslides, family rides, thrill rides, and kid rides are all available in a wide variety of pricing packages and options to fit your family's needs.
We hope this list gives you new ideas for your next adventure with the younger ones in your family. Go get out there and take your kiddos to experience one of these great Denver attractions!