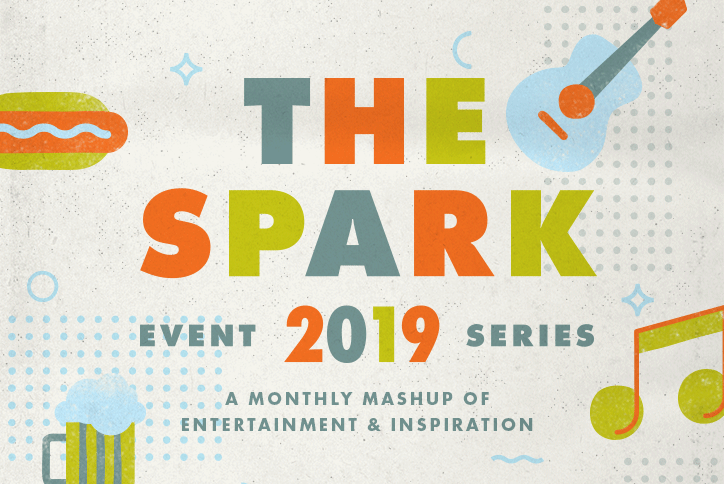 Announcing the second-annual Spark lineup
Our signature event series brings forth another season of tasty food, free craft brews, live music, creativity and, of course, friendly faces. So much to look forward to. Hope to see you, every second Friday from June through October at the Inspiration Club, as we live and breathe the art of community. Everyone is invited.
Inspiration at play – June 14 @6-8pm
The first neighborhood get together is a doozy. Pack a picnic or peruse the $ food trucks. Play large-scale lawn games with a cold craft beer in hand. There will be bubble and chalk art for kids of all ages and field-day games. Then, find a spot near the stage where you can kick up your heels and dance the night away to the sounds of a super awesome band.
Inspiration Creation – July 12 @6-8pm
The artist in you will love what July has in store. Watch a chalk artist turn concrete into a canvas. And make something of your own … a birdhouse, squirt-gun painting, rock art … with craft brews and $ food trucks on hand to nourish your creativity. Then, find a spot on the lawn where you can enjoy the musical stylings of a singer/songwriter.
The Big Song & Dance – August 9 @6-8pm
Dance into August and be transported to the age of swing with the jazz ensemble After Midnight. Take swing dance lessons with the pros, sit for a caricature portrait and enjoy a cold, local craft beer along with some delicious $ food truck eats. This is what summer nights are all about.
Blues & Brews – September 13 @6-8pm
The dog days of summer are upon us and what better way to drink it in than with $ food truck fare, arts, crafts and beer tasting – featuring a variety of local brews. With a toe-tapping bluegrass soundtrack provided by a super awesome band. Are you thirsty yet?
Pumpkins & Pies – October 11 @5-7pm
As the days get shorter and summer turns to autumn, we get started a little earlier at the final Spark event. Fun includes fall-themed arts and crafts, seasonal craft beer, $ food truck fun, pumpkin painting and pumpkin bowling (yes, that's a thing). Along with live music from a super awesome band.
Come Early and Stay...Well, Forever.
Get here in time to explore the community and tour our 16 models by 7 builders. They're open from 10-6 The Spark days (and every other day).
Checkout the fun from last years Spark events: view photos >