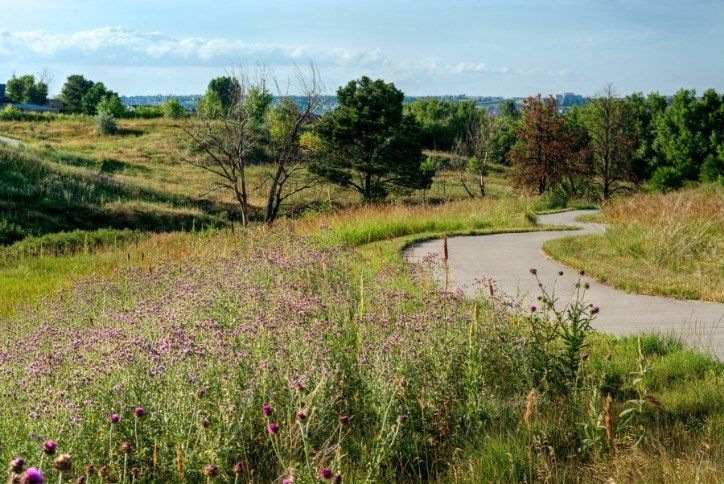 Happy Trails
One of the best reasons to live in Colorado is the abundance of sunny days. And when it comes to enjoying clear blue skies, nothing beats a trail through the great wide open. Luckily, Inspiration gives you miles of great trails, leading to a myriad of great places, that invite regular exploration and a daily dose of good health. From the Town of Parker to Cherry Creek State Park to Downtown Denver … there's no limit to how far you can go.
Piney Creek Trail (.2 miles from Inspiration)
Soon, there will be a trail just out your backdoor that you can hop on that will wind its way north, linking to the Cherry Creek Trail and Cherry Creek State Park. The City will be working to complete a paved connection to Inspiration and this 10-mile trail system will connect with other local trails to the east for trips to the Aurora Reservoir and beyond.
Baldwin Gulch Trail (2.5 miles from Inspiration's south entrance)
You can access this trail along Pine Drive at Lincoln, just southwest of Inspiration, and follow a waterway to the Cherry Creek Trail System. Where you'll have many more trails to explore.
Cherry Creek Trail (3 miles west of Inspiration)
If you've followed Piney Creek all the way to the Cherry Creek Trail, you've now got the option of going west to Cherry Creek State Park and all the way into downtown Denver. Or east towards Franktown. It's a paved path that follows a natural greenbelt that goes from historic urban neighborhoods to high-prairie grasslands and cottonwood groves along a waterway.
Sulphur Gulch Trail (4 miles from Inspiration's south entrance)
This 4.5-mile trail takes you right through downtown Parker, along Main Street, past the Town Hall and PACE Center. Then connects to the Cherry Creek Trail at Bar CCC Park. And now you know how far you can go from there.
In other words, there are so many trails to discover and Inspiration is at the center of it all. Happy exploring.
See a map of trails surrounding Inspiration. Trails Map >