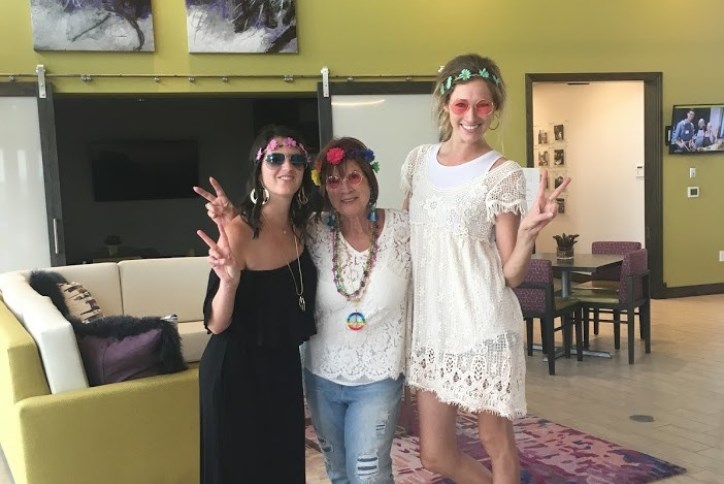 Meet our Hilltop Ambassadors (if you haven't already).
We highly suggest stopping by the Hilltop Club and meeting them in person. But in the meantime, you can get to know a little bit about our Hilltop Ambassadors, Gloria Escalante, Ginnie Ellis and Lindsey Mercier right here. They are our greeters. Our tour givers. Our question answerers. Our club setter-uppers. And our event helper-outers. We asked them about their days, what they love most about the Hilltop Community and more.
Us: What's your favorite thing about Hilltop?
Lindsey: I love the passion the residents have here, and how they've made this community their own. I love walking by the clubs and events going on and just being a part of all the activity.
Gloria: The clubs and the continental breakfast on Saturday morning are great, because you can really see the friendliness between everyone.
Ginnie: I love showing people the weight room and the pool, with the view of the mountains right behind them … and of course the clubs. People are always asking about joining or starting one.
Us: So, the clubs are obviously popular. Is there anything you're especially looking forward to at Hilltop in the upcoming year?
Lindsey: Getting to know the residents better.
Gloria: The Dinner Clubs are one of my favorite events. I love seeing how the multi-purpose room is transformed for the different themes.
Ginnie: I'm looking forward to working Grandparents' Day again. It was so fun making treats for everyone—and the kids were so well mannered! And the Saturday breakfasts are great because there's always a lot of laughing going on!
Us: Okay. One more question. What's a fun fact or something interesting about yourself?
Lindsey: I'm a dual citizen—Canada and USA. And I'm actually in nursing school right now.
Gloria: I must be easy to talk to, because people never hesitate to share their thoughts with me!
Ginnie: I used to be a flight attendant. I got to take troops over to Saudi Arabia, and I've had famous people on my flights—including Roy Rogers, Muhammed Ali and a lot of senators. No presidents, though!
So now you know a little bit more about the women who do a great job showing guests our incredible community. Stop by and say hi. And of course, you can always talk to any of the residents, too—their enthusiasm for Hilltop speaks for itself!