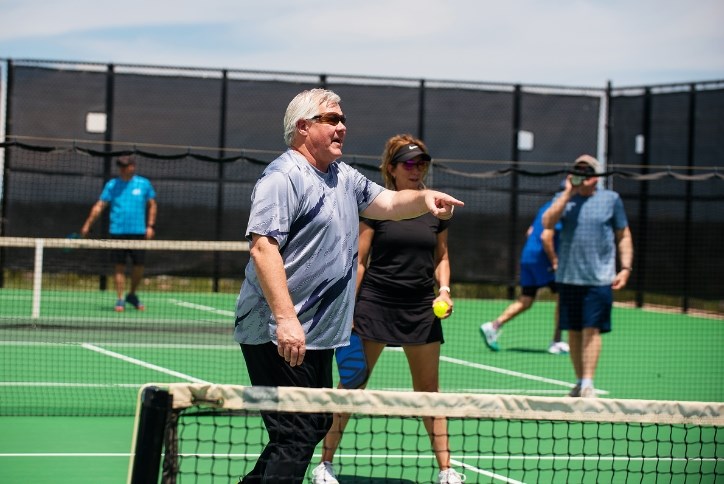 From part-time pickleball instructor to full-time resident.
When Mike Anderson got a call to teach pickleball at Hilltop 55+ two years ago, he had no idea what to expect. (And he certainly didn't expect SIX dedicated courts.) But after teaching over that summer and the years that followed, he realized that our community wasn't just a great place to pick up a paddle. It was a great place to put down roots. So he and his wife packed up and made the move from Littleton to a Toll Brothers home in Hilltop in November 2022.
"My first two years were really rewarding. I got to know some of the pickleball members and residents and liked the small-town feel of the Parker area, so moving [to Hilltop] seemed natural," Mike said. In fact, when they moved in, Mike already knew about 125 people through pickleball. And while having met so many great people was certainly one factor to make the move, Mike knew that Hilltop had even more to offer. "I was always impressed with the community, how it's laid out, the homes, the clubhouse … plus the list of social activities is enormous."
While the Andersons have only been here a few months, Mike is already jumping into Hilltop living. He's a big fan of the workout facilities and is looking forward to joining the bridge (and other) clubs, attending social events — and hitting the pickleball courts, of course. With a pickleball club at 250 members and counting, he'll have no shortage of people to play with and teach.
So, why is pickleball so popular? Perhaps Mike sums it up best: "Pickleball unites people. I've never seen an activity that draws people in like this."
Hilltop 55+ has a plethora of pickleball opportunities, like league play, ladders, and a summer boot camp for players of all levels, from beginner to advanced.