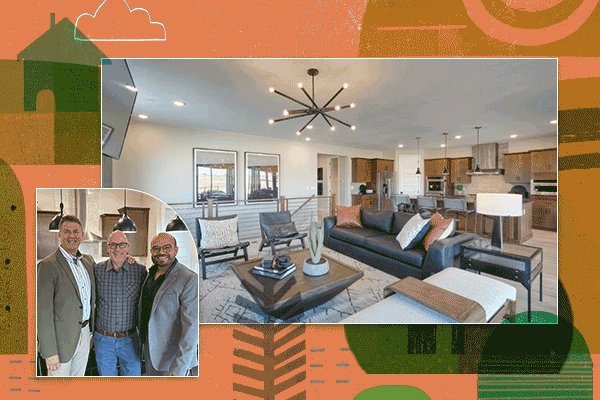 A little Hilltop Talk with our builders.
It's a beautiful thing when a builder sales representative has so much to say about their homes and our community. When there are THREE of them? Well, that pretty much makes our day. Read on for their down-low on Hilltop 55+.
US: What does your builder bring to Hilltop that is unique or different?
CHRIS MASON, American Legend Homes: We're a family owned and award-winning organization focused on thoughtful designs. We have 15 different floorplans, and one of my favorite things is the ability to customize and tailor our homes.
BRIAN PETTIGREW, Pulte Homes: We're the third-largest builder in the nation, and have been around since the 50s. We have Energy Star® rated homes with exemplary construction standards.
AUSTIN ELLIS, Pulte Homes: Our trademark is "Life Tested Home Designs." All of our plans are field tested with focus groups before production, then refined through home buyer surveys. As a result, our floorplans are open, efficient and full of light.
US: Tell us a little about your model homes. Any specific features you want to note?
CHRIS: Model C555 has a 3-car garage and 2,500 square feet on the main level, along with 10-foot ceiling and 8-foot doors. Clients love the expanded kitchen at no additional cost. Model C652 has 11-foot ceilings and 8-foot doors, an oversized kitchen island, plus an optional wine room or study that make it a must-buy.
BRIAN: People love the interior design of the model. It's a mid-century modern elevation, and the furniture is very black-and-white. I hear a lot of comments on it.
AUSTIN: The Ferrara has the largest kitchen of the collection, complete with a 14-foot kitchen island. It's a showstopper for sure.
US: Any other floorplans you want to give a shout-out to?
CHRIS: C652 has a beautiful, large primary bedroom with a spa-like bath with an optional freestanding tub — and optional laundry located in the walk-in closet.
BRIAN: I feel like the Preserve with its finished basement is one of the best floorplans we offer, and provides the best bang for the buck!
AUSTIN: The Preserve is an awesome home and a tremendous value. We have two underway that will be ready next year.
US: So, we know you love your homes. What's your favorite aspect about Hilltop?
CHRIS: The Hilltop Club is the place to be! It's all about the community events — and the 45+ different clubs that bring everyone together.
BRIAN: Amazing views, tons of open space and lots of pocket parks.
AUSTIN: The location is tough to beat — the proximity to Parker and Aurora is incomparable. And the community has a luxury feel without the luxury HOA price tag.
US: What's your favorite thing about selling homes?
CHRIS: I love meeting new clients, understanding what their needs and wants are, then building a relationship with them through the home building process.
BRIAN: I can honestly say I love my job and take pride in helping my buyers make one of the biggest financial decisions of their lifetime.
AUSTIN: My approach is "love all, serve all." I get the opportunity to service others and change and improve their lives through home ownership.
US: Any last thoughts you'd like to tell someone thinking about moving to Hilltop?
CHRIS: l had a client that bought here just for the ranch-style floorplan. When I met her, she told me she wouldn't use the Hilltop Club. I smiled and responded, "really? Are you sure?" Two months after she closed on her new home, she stopped by the sales office to say hi and told me, "You know how I told you the Hilltop Club wasn't for me? Now I'm in the Book Club, Wine Club and Pickleball Club!" That's been one of my favorite client experiences here.
We'd love to thank Chris, Brian and Austin for taking the time to give us their thoughts on the homes (and more) at Hilltop. And we're sure they'd love to give you even more insights when you stop by one of their models. (Yes, that's a hint. AND an invitation to come visit.)