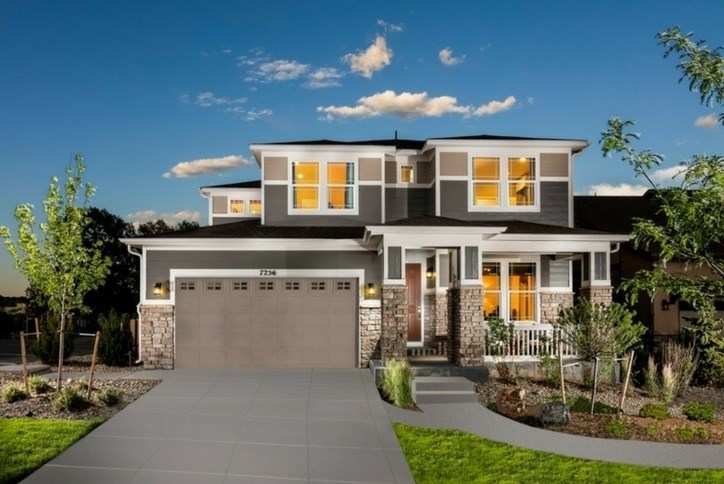 You're going to love Meritage Homes at Inspiration.
If you stop by the Meritage model homes at Inspiration, you just might meet Sales Associate Eryn Spencer. She's been with Meritage Homes for two and a half years, and just came to Inspiration. So, what does she say Meritage brings to the table? Energy efficiency, for one. Gorgeous finishes for another. Then there's the variety of floorplans and the stunning views. In fact, the location and views are Eryn's favorite part of Meritage Homes' location at Inspiration. As she puts it, "when you think Colorado, you think mountains and trails. And that's exactly what we represent." Her personal favorite thing about Inspiration? The open space and fresh air. (Funny, those are a couple of our favorite things too.)
Of course, having a beautiful home in a beautiful setting is a beautiful thing. And whether you're looking for something more traditional or more modern, Meritage Homes has what you're looking for. Think two-story homes with vaulted ceilings. Covered decks. Open floorplans. And M-connect, where you can control your home from an app (like turning on the lights before you get inside or seeing who's at your front door before you answer.) All these thoughtful design elements result in homes you can raise a family in, entertain in…and quite possibly, never want to leave.
Come take a look at the Meritage model homes. You'll notice the exceptional quality. The above-and-beyond customer service. And the amazing prices starting in just the $400s. And if you're lucky, you just might meet Eryn. (If you do, ask her about the upcoming addition to her family!) Speaking of families, we're so glad Meritage Homes (and Eryn) are part of ours!