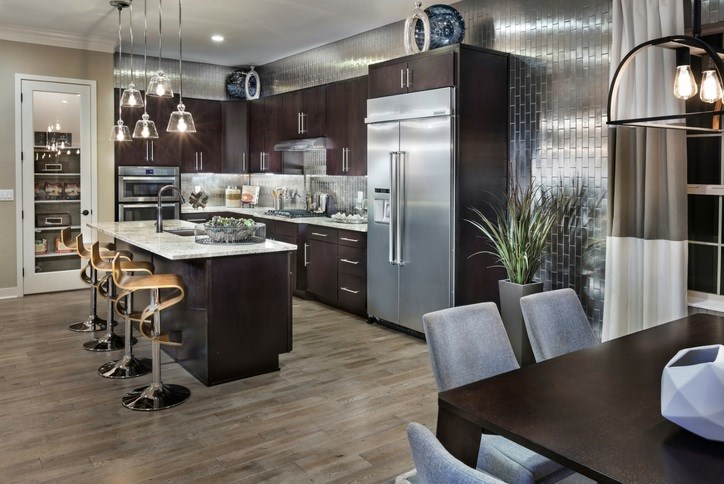 Design trends that make home more livable and lovable.
Doris Pearlman, the owner of Possibilities for Design, is the lead interior designer for the Toll Brothers models at Inspiration. When it comes to design trends, she knows her stuff. So we were excited to hear a little about what she's seeing and foreseeing. And we were intrigued with the notion that it's not about fancy-schmancy but rather livable-lovable.

Less is more.
"What we're seeing is cool quality over quantum quantity," Doris says. "And not just with interior design but in every facet of design." The idea here is to create a more interesting and welcoming environment by stripping away the clutter, spending your money on fewer, bigger, better items instead of a pile of knick-knacks. Pick one great visual accessory, then create a whole room around it. Yes, this is a minimalist design philosophy. But rather than the stark, chilly interpretation of minimal, it's warm and inviting (as you'll learn in the next section.)

Colors and textures.
According to Doris, natural palettes are making a big comeback, especially with furniture. "Gray is a classic neutral, but the current trend is toward warmer grays leaning toward brown." White walls are in for how well they serve as a backdrop to everything else in the room. "And I'm seeing a lot of wood and wood tones delivering rich textures into rooms," Doris says. "Colorado is all about nature, and natural textures — from raw to refined — feel so appropriate here."

Merging the indoors and outdoors.
More than ever these days, designers are thinking as much about the outdoors as the indoors. "Here in Colorado, we can live outside five or six months of the year," Doris explains, "So it only makes sense to think of outdoor living spaces as rooms: living rooms and kitchens." So that's how you bring the indoors outdoors. But what about the other way around? "For a while now, there's been a strong trend toward taking materials that are traditionally used for the exterior — like reclaimed barn wood and wooden beams — and applying them inside. It's fun and very Colorado to blur that line between inside and outside."

It's also fun and quite instructive to drop by and see the trends on display in our model homes during the Parade of Homes event. Learn more here.