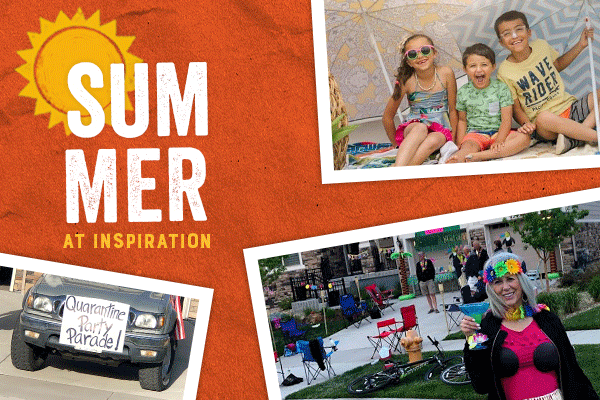 "Safer-at-home"? More like "Creative-er-at-home".
Sorry, Coronavirus. You may keep us physically distanced. But you can't keep us apart in spirit. While this summer may be a little different than most, it hasn't stopped us from having the community events that make Inspiration so … well, inspiring.
We kicked off the summer with our Inspiration Luau at the end of May. But this was no ordinary luau. This was a decorate-your-driveway-then-connect-via-Zoom luau. Where everyone partied at their own place, but joined together online, thanks to our DJ who kept the limbo-loving tunes coming. And because you can't have a party without prizes (at Inspiration, anyway), we handed out awards for best-dressed kids, best-dressed adults, and best-all-around luau (the roasting pig and driveway palms sealed the deal on that one).
Once we realized we were in this quarantine for the long haul, we decided we were up for the challenge. So our residents hit the Inspiration trails for Rock 'n Walk in June. There were live bands, photo ops, chalk art, food trucks and free craft beers along the socially-distanced way. And that was just the beginning.
We also held Inspiration Creation—a new spin on an existing favorite. Celebrating local artisans (as in really local Inspiration residents), we had artists' booths, live performances and music, food trucks and complimentary beer and mimosa stations. Masks were worn. Social distance was kept. And a great time was had.
The list goes on (and on). Kids of all ages joined our Independence Day Parade, complete with decorated bikes and wagons (and pets and people)—and our Hilltop 55+ neighborhood got to enjoy the Fourth with "Block Party Kits," containing block party essentials for groups of up to 10 guests. And the fun doesn't stop there. Food truck Nights in the park and Snow Cone Days at the pool are ongoing events that will take us through the end of summer.
Of course, as things have slowed down a bit, the needs of the less fortunate have risen. So Inspiration residents have helped the Parker Task Force & Food Bank feed families in our surrounding area. We understand, after all, that we are all in this together.
Long story short, this summer has made us realize a few things: that we are a stronger community than we imagined. That we can get through anything … and have fun doing it. And that a pair of pineapple sunglasses can make you see the world a little differently, if even for just one evening.