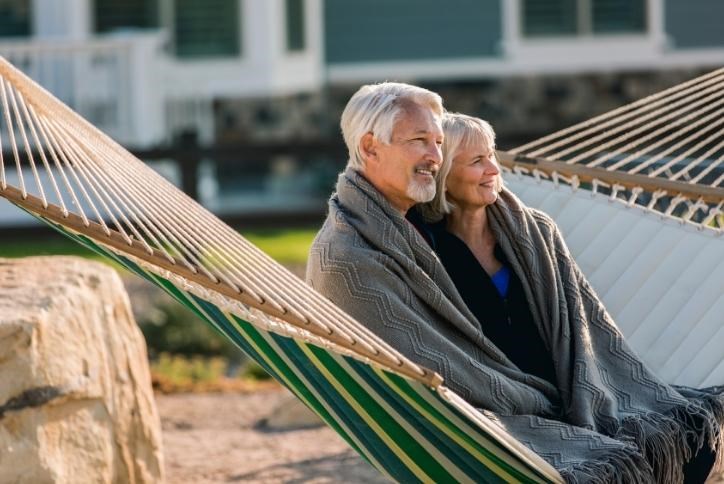 We Talk Wellness at Hilltop
You may see them strength training at Hilltop Club. Playing a little pickleball. Or perfecting their sun salutation at a yoga class. After all, Hilltop residents Rick & Kathy Forsman put a big importance on wellness. So we thought we'd start the new year talking to them about how they stay active and engaged, why it's so important—and how Hilltop helps.
Their response in a nutshell? Whether you're into HIIT workouts or hiking, barre classes or biking, there are opportunities to do as much or as little as you choose here. And it doesn't matter if you're a beginner or a been-doing-it-for-years-er—the broad range of classes and activities means there's something that will keep you engaged as your skills progress from entry-level to advanced. You just might find a new support crew, too. As Rick says, "Everyone is welcome, no matter your level. And people are so knowledgeable and friendly if you ask for help." In fact, the two are a testament to that: Kathy pointed out that when they moved to Hilltop, they decided to go out on a limb and try something new—strength training. Now she says both she and Rick are in better health and condition than ever before. We'd say that's pretty compelling proof!
Of course, Rick and Kathy were quick to address that wellness isn't just about fitness. It's about emotional and mental wellbeing, too. Which is why from the pickleball club and its happy hours, to an exercise class that gathers for coffee and conversation afterward, there's frequently a social component to go with the physical one. As Rick puts it, "engaging with our neighbors helps us stay young." And engage, they do, co-leading the wine club, playing cards, hosting small dinner groups and participating in other social events. "It's the range of social activities, along with the fitness and active things to do, that makes for a well-rounded version of wellness at Hilltop," says Kathy.
So if your wellness goal for 2022 is to be more active, more involved, or a little of both, Hilltop has you covered. Rick and Kathy's advice? Look at the list of clubs and activities and discover something you'd like to be a part of (or start your own!); find what it is in life that gives you peace of mind; and always have something to look forward to (for the Forsmans, that's travel). Oh, and as Kathy says, "don't use the word 'resolution.' Resolutions are overrated. I like the word 'intention' to stay motivated." We like that too. So we hope the upcoming year is all you intend it to be, and that you stay healthy, happy, and well … in every sense of the word.