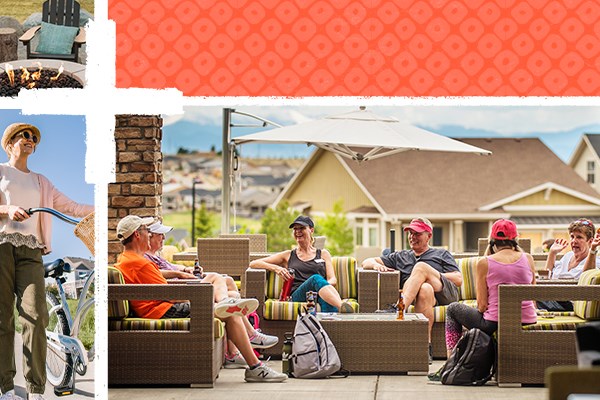 So many reasons to heart Hilltop 55+.
If we sat down and thought of all the reasons why you should buy a home in Hilltop, we'd have a very long list. (Like, very long.) So we've just included our top 5 here. Trust us, it was very hard narrowing down our choices!

1. Friends at your same stage in life.
One of the first things our residents will tell you is that neighbors here feel like friends. Like the feel-you've-known-forever kind. That's because it's easy to meet other people who are at that awesome point in life where your time is actually YOUR time. To travel. Hike. Join clubs. Play pickleball. (You get the picture).

2. Clubs that cater to your interests.
Here, you'll find a club for every activity. Whether you're into books, wine, investing, cooking, gardening or fitness, you'll find like-minded people to enjoy it with. There are even clubs for "guys' nights out," wine tasting, group dinners, mah-jongg and more. And the best part? If you don't see a club you're interested in, you can start your own!

3. Exclusive amenities.
One visit to the Hilltop Club, and you'll be sold. This residents-only spot has a fitness studio, fire pit, gym, gathering rooms and more — from a resort-style pool and patio, to tennis and pickleball courts, this is the hub of our community (for good reason).

4. Like to hike? You're in luck.
At Hilltop, there are miles of trails and acres of open space right outside your door. Whether you prefer to explore them on two feet or two wheels is up to you.

5. Exciting events.
At Hilltop, we love any excuse to gather. Which is why you'll find there's no shortage of things to do here — like pickleball tournaments, a summer concert series, Broncos viewing parties and more. (In other words, there's plenty to keep your calendar full.)

When it comes to the Hilltop lifestyle, we hope this list gives you a glimpse of the 'life' part. As for the style … we think our homes speak for themselves. Our builder partners continue to do an amazing job offering stunning homes that fit the way our residents live and entertain.
Come out and see for yourself. Schedule a personal tour of Hilltop Club today. We'd love to show you around.