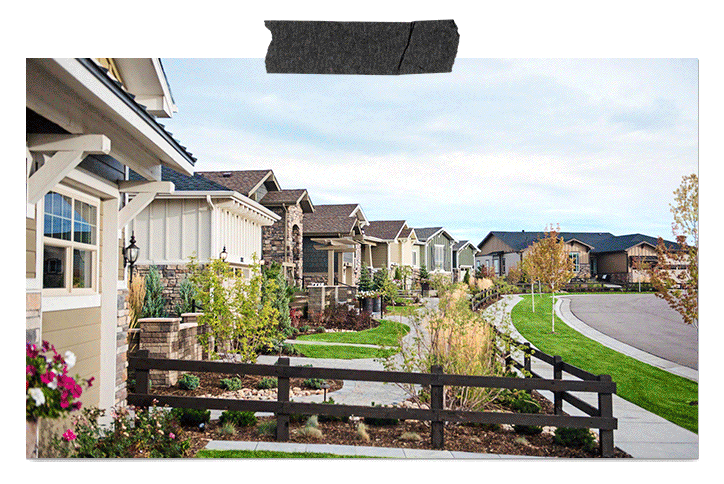 Redefining the 'burbs. Inspiration-style.
Here's to suburbs without the stereotypes. To fresh thinking. A variety of homes — and people. Rolling hills. Hops gardens and resident brew masters. One-of-a-kind boutiques, live theater and foodie nirvana, just five miles down the road. Think of Inspiration as the suburbs … inspired.
Because here's the deal. With a name like ours, ordinary isn't an option. That's why, even on your first visit, you'll feel a vibe that's different from typical suburban communities. More vibrant. More engaging. More connected.
It all starts with the land, chosen for its beauty and the outdoor living it inspires. Hillsides dotted with Ponderosa pines, where winding trails showcase the sunsets over Pikes Peak. Here, people simply find themselves outside more — not just on the trails, but at parks like Pathfinder, with grassy fields, tennis, sport courts, an in-line hockey rink and playground. At the Inspiration Club pool, pavilion and event lawn. The hops garden, sipping home brews around the firepit. Or the Hilltop Club, a resort-style clubhouse with its own pool and hang-out spaces, just for Hilltop's 55+ residents.
All these points of connection have the effect of notching up the neighborliness. People get to know each other more easily at all the community events, from beer-and-yoga on the lawn to Christmas carol karaoke in your best (worst?) ugly sweater. And residents do more than just show up — they get involved here, creating clubs for practically everything and organizing awesome volunteer projects. (Just ask Inspiration's feathered mamas about their 10 cozy bluebird houses.) 
Oh, and it doesn't hurt that we're just 5 miles from Parker which coincidentally was recently named the 2nd best place to live in America by Money Magazine, thanks to its quaint Victorian main street with one-of-a-kind boutiques, restaurants, festivals, galleries and the renowned PACE Center— Parker's cultural epicenter, and host to national and international performing arts events, exhibits and educational programs. Inspiration has also been named one of the Top Ten selling communities in the Denver area. It doesn't get much better than that. Come tour our 14 models by 5 builders, see the choice of home styles, experience the eye-catching streetscapes—and discover just how different your life could be.