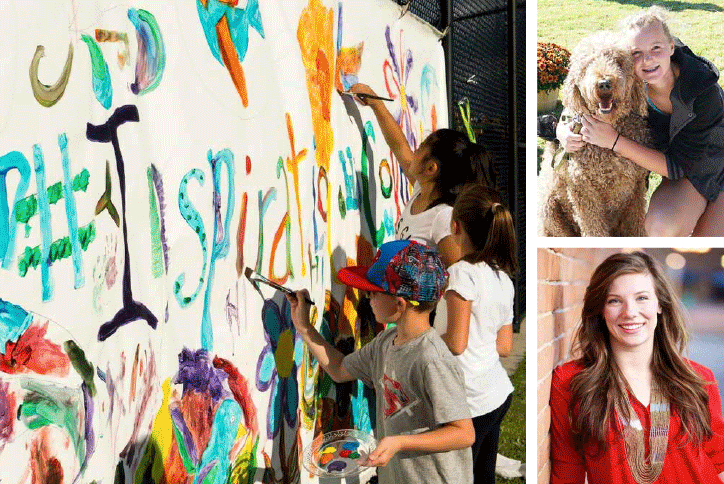 Life is good. With a lifestyle director, it's even better.
Of course you know how to make your own fun. But imagine having a neighborhood champion of fun. A passionate planner of special events. Someone whose full-time job it is to nurture friendships and build a strong sense of community. At Inspiration, that someone is Hannah Toole, Lifestyle Director.
Hannah joined Inspiration last November, bringing years of event planning that ranged from intimate workshops to large-scale, one-week festivals. Now she's happily putting that experience to work at Inspiration, strategizing fabulous events for the upcoming spring and summer. (Details on that in a bit.)
What drew her to Inspiration were two things: the big picture thinking behind the community, and the amenities that bring it to life. "Inspiration doesn't just focus on building nice homes, but on creating a place people want to call home," says Hannah. "People want to know their neighbors. They want opportunities to engage in their passions and interests together."
Inspiration achieves that goal with a Lifestyle Director, of course, and with built-in amenities where people can gather. In Hilltop Village, there's the resort-style Hilltop Club, where 55+ residents enjoy year-round activities such as cooking demonstrations and the popular Speakeasy Jazz Lounge event. There's also the Inspiration Club where the entire community meets up regularly. Hannah describes its elevated setting and city and mountain views as "magical"—an apt word for last year's Farm to Inspiration experience, an intimate, beautifully lighted outdoor dinner party held at the Club's Hops Garden.
Another evening, families met for apps, drinks and expert-led stargazing with powerful telescopes. Inspiration Creation was a memorable day of chalk artists, character artists and blank canvasses that children painted with squirt guns. (Kids, don't try this at home.)
Residents' own ideas are always welcome. Hannah is currently preparing resident surveys in order to tailor events to favorite interests. And she also meets regularly with a team of "social ambassadors," aka residents. Hannah believes in an open door policy and treasures the vibe of collaboration she feels in the community. "I love that Inspiration is in the early stages of life," she says. "This is an amazing opportunity for us all to ask 'who do we want to become?' Together, we're building a highly engaged and fulfilling place to live."